News
Happy Pharmacist Day!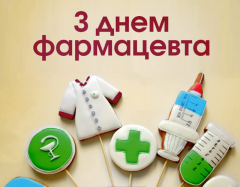 On the third Saturday of September, congratulations on the occasion of the professional holiday are traditionally received by pharmaceutical workers.
Dear pharmaceutical community!
Please accept my sincere congratulations and wishes on the occasion of the professional holiday - the Day of the Pharmaceutical Worker! The profession you have chosen has always been respected in society, because it is associated with the preservation of the most valuable asset of the state - the health of its citizens.
Every day, more than 350,000 pharmacists, pharmacists, distributors, and employees of pharmaceutical manufacturing companies stand side by side with medical workers to protect the health of Ukrainian citizens. Thanks to the successful results of your noble and selfless work, Ukraine manages to resist many diseases. Every day, receiving a medicine from your hands, and at the same time the hope of overcoming the disease, millions of Ukrainian people feel that in a difficult moment they are not left alone. Your professionalism, purposefulness, dedication - the key to further successful development of the industry, and thus - improving the provision of the population of Ukraine with highly effective, high quality and safe drugs.
The source of inspired work for all of us is love for the chosen profession, the desire to serve Man and his Health. May this holiday fill your hearts with pride for our pharmacy, may your dreams and hopes for the bright future of Ukraine come true.
So on this holiday we sincerely wish all of you, your family and loved ones good health, happiness, well-being and prosperity. Let the gratitude and respect of people continue to inspire you for further success and professional achievements.
18 September 2020