News
LUMIER PHARM LLC has successfully passed the GMP compliance test and has received GMP Certificate No.052 / 2018 / GMP.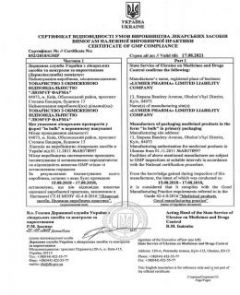 According to the results of an inspection by the State Service of Ukraine for Drugs and Drug Control (State Service), it was found that the manufacturer of LUMIER PHARM LLC complies with the requirements of good manufacturing practice specified in Guideline ST-N of the Ministry of Health 42-4.0: 2016 "Medicines. Good Manufacturing Practices "that meet the requirements of Good Practice in Manufacturing and Quality Control of the Pharmaceutical Inspection Cooperation System (PIC / S), the EU Directives and the World Health Organization guidelines for products intended for trade and distribution in Ukraine.
In accordance with the aforementioned company, LUMIER PHARM LLC has been awarded the Certificate of Conformity of Medicinal Products for Good Manufacturing Practice No.052 / 2018 / GMP.
26 September 2018