News
We sincerely congratulate you on Easter!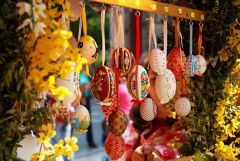 The sun has gone down and the darkness is gone,
Morning in pure dew ...
"Now Christ is risen today!" -
The whimper of praise grows.
Praise the Lord with abundant color
Yellow is a small dandelion
And the nightingale is clear by singing,
And in the pond frog.
Let's sing heartily to all:
Our God bestows salvation,
A home is prepared for us in the sky! ..
Glory to Christ of the resurrection!
6 April 2018